SAR-EL POLICIES
JANUARY 2019
The minimum age for a volunteer to come alone is 17. We will accept 16 year olds with a parent or adult relative.
We do not have an age limit but all volunteers must have all medical forms signed off by a doctor and must be able to handle the rigors of living on a base in desert climate and handle the physical nature of the work duties involved.
2. ARRIVAL DATES/TIME COMMITMENTS
Volunteers must check with SAR-EL on the best start date for their 2 or 3 week program so please inquire and confirm dates before you purchase airline tickets.  All programs begin on Sundays at 12:00pm and we need all volunteers to be ready to depart to their base by noon of that Sunday.
We highly recommend you arrive a day early as any late arrivals will be reassigned bases and transportation will be at the volunteers expense.
3. Documents
All volunteers must have their applications, signed doctor's medical release form and copies of passport and medical insurance scanned and emailed and sent to us prior to acceptance and program dates assigned to the volunteer. Please be sure all this paperwork is in prior to booking your plane ticket.
4. BUS/TRAIN CARDS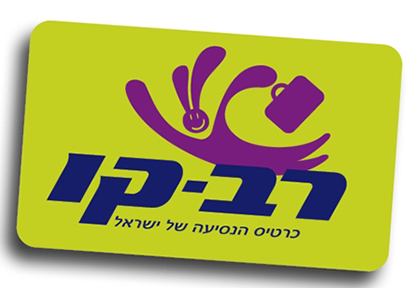 There is a new rule regarding buses and trains in Israel. Everyone must purchase a "Rav Kav" bus card BEFORE going on a bus or train. The bus drivers will not take any money. You can purchase these cards at the central bus stations or train stations, as well as at the airport. The best place to buy them is at the airport at the Transportation counter in the Arrivals Hall (near where the volunteers meet). The cards are 5 shekels and then you put as much money as you want on them. The suggested amount is 50 or 100 shekels. If you are going to be in Israel for a few weeks and plan to take buses and trains,  you should probably put 100 shekels on the card because if you run out, the bus drivers will not add more money once you are on the bus. There are kiosks and stores in the cities where you can "refill" your cards but NOT on buses.
5. PERSONAL INFORMATION/DOCUMENTATION
 We must have the following information at least 1 month in advance of the program date:
Name
Passport Number
Flight information (Airline, flight #, arrival and departure dates)
Program Dates
Birth date
Jewish/non-Jewish
Copy of Passport
Proof of Insurance
Medical form signed by doctor (signed no more than 1 year before)
Waiver
Application form
6. INSURANCE AND MEDICATION
Insurance coverage is mandatory for all volunteers. This can be their regular insurance company (IF it covers this region) or special travel insurance. It must be medical insurance which will cover doctors' bills, hospitalization, emergency room. Most hospitals will require the patient to pay the bill and then file a claim with the insurance company back home. It is up to the volunteer to know what his insurance company will cover and requires. Every volunteer must have a credit card or enough cash to cover medical expenses. Emergency room treatment is an automatic 1300 shekels or more which must be paid. Private doctors will also charge fees. Volunteers must have the means to pay these bills (credit cards/cash).
It is suggested that volunteers have additional travel insurance to cover the amount of the deductible of their regular insurance. Volunteers will NOT be admitted to the program without proof of insurance.
Volunteers should bring copies of their prescriptions for medications. This does NOT mean that a pharmacy will automatically fill the prescription from overseas–in fact it usually will NOT do so. But if a volunteer runs out of medicine and has to see a doctor, having a prescription may make it easier. The best thing is for people to bring enough medicine for their whole trip, including some extra and they should keep it in their hand luggage on the plane.
Take your medicines with you each weekend–do not leave them on the base. There are usually no refrigerators for volunteers' use on the bases so do not expect to be able to refrigerate your medication.
Volunteers with medical conditions which burden the madrichot or other volunteers (sleep apnea, heart conditions, diabetes, etc.) may be asked to leave the program. Representative must be very careful when interviewing and approving people with special conditions. Make sure that all volunteers are in good physical and mental condition before they are accepted to the program.
7. PACKING REMINDERS
 Pack lightly; you must carry your own suitcase (there are no "bellcaps" or "porters" in the army.  Bring a small bag or backpack for the weekends. Bring a towel, sheet, pillow (if you need one)–not all bases have these. Bring closed shoes which can be used for work (gym shoes, sneakers, work boots). Carry all medicines, prescriptions, your Sar-El papers, clean underwear, socks and a change of clothing in your carry on luggage. Keep extra copies of your passports in your suitcases. Make sure you have a luggage tag on all bags.
8. PHOTOGRAPHS ON BASES
We welcome volunteers' pictures and articles about Sar-El, but please refrain from taking pictures of anything that you think may be classified or sensitive. If you have questions about what you can  photograph and what is not allowed, ask the madricha. Sar-El will take action against volunteers who take pictures of things that are not allowed. Volunteers will be dismissed from the program and will not be allowed to return if they break this rule. Do not write the names of your bases in your articles or on social media. Do not take pictures of soldiers with their weapons.
9. BLACKOUT DATES/HOLIDAYS
 Sometimes there are blackout dates due to holidays. Please check the website Schedule for information. Sometimes volunteers will have to leave the bases on holidays and sometimes for a few days if the holiday is in the middle of the week. Often we are given very little notice from the bases so all volunteers must be prepared in case they have to stay in hotels/hostels during the holidays. If volunteers do not want to incur the expense of staying in hotels, they should avoid coming during any holidays. This applies (but is not limited) to Rosh Hashana, Yom Kippur, Succot, Pesach, and Shavuot. 
10. SPECIAL ONE WEEK GROUPS
Sometimes we have special 1 week groups. They are on the Schedule. People must be prepared to be at the airport at 8:00 am on the Sunday morning that the group begins. If a volunteer cannot be at the airport that early, then he will not be able to do that program. Sometimes the meeting place for a 1 Week Group will be at a different place than the airport. Check the website and the Schedule for information about 1 week programs and call Johanna when you are in Israel before the program begins.
11. TRANSPORTATION FROM BASES
We do not take volunteers back to the airport at the end of the program. Sar-El takes people to the bases on the starting day and we will take the groups to a central area in Tel Aviv on Thursdays. Volunteers will have to meet at the central area on the subsequent Sunday mornings. Volunteers will be told all the information when they are on the bases.
12. EXTENSION OF TICKETS
 If volunteers want to extend their tickets, they must call the airlines themselves. The madrichot do not do this.
13. WEEKEND TRAVEL
Volunteers may not travel to certain areas on weekends due to security restrictions. These include Jordan (including Petra), Egypt (including Sinai). Other restrictions will be told to volunteers when they are here.
14. PROGRAM ACTIVITIES AND TRIPS
 Trips and evening activities are part of the Sar-El program. The madrichot spend a lot of time planning these activities. A 3 week program includes a trip to a museum or some other place; however there may be changes to the schedule.
The work week ends on Thursday afternoon. Volunteers should be prepared to stay at hotels on Thursday, Friday and Saturday nights.  Volunteers must return to bases on Sunday morning. They should plan their return flights back home for late Thursday nights or after Thursday.
15. WEEKEND TOURS
 See our website for suggested Tour Guides, Hotels, etc.
16. PROSELYTIZING, DRUGS, ALCOHOL OR OTHER INAPPROPRIATE BEHAVIOR
 If anyone does any of these things, he will be dismissed from the program. We have had problems with "subtle" proselytizing. Volunteers must understand that they cannot talk about religion in any way which may be construed as trying to impart one's beliefs on someone else or which is intended to be persuasive or which is offensive. We ask volunteers NOT to talk about religious beliefs. This is a very delicate issue and there is a fine line between what is acceptable and what is not allowed. Make sure that all volunteers know that if they do or say anything which makes other people feel uncomfortable or if they pass out or leave such literature on the base, they will be asked to leave the program.
The same applies for talking about politics. We know it is hard to be in Israel and not talk about politics but just be careful not to get too argumentative. If there are problems, the volunteer will be asked to leave the program. Remember, the army is not "political" and the soldiers are not allowed to give their political views.
Volunteers will also be dismissed from the program if they exhibit any other inappropriate behavior such as not following base rules, not listening to madrichot's instructions, swearing, talking back or arguing with the madrichot, causing dissension among the other volunteers, or acting inappropriately toward the other volunteers. We expect our volunteers to act like adults.
17. CONTACT INFORMATION
Make sure all volunteers have Johanna's phone number: 
054-2586688
  (to call from abroad: +
972
54-2586688
). They should always call when they arrive and are settled to reconfirm meeting times, etc.
18. PASSPORTS/TRAVEL TO ISRAEL
 Any volunteer holding an Israeli passport in addition to another one must bring both passports. We should be given both passport numbers on the application information. Upon entering and leaving Israel, he will be asked to present his Israeli passport. Before volunteers travel, they must make sure their passports expire at least 6 months after their return flight date. Verify with the airline for specific information.
It is advisable to NOT travel to Israel via Jordan or Egypt. Volunteers may get a shortened visa stamp. Sometimes they may not be able to extend their visa. There is extensive questioning at these borders. We do not suggest traveling to these countries.
19. CREDIT CARDS/MONEY/TRAVELERS' CHECKS
Tell volunteers to check their ATM cards before they leave home to make sure they will work in Israel. Volunteers should also advise their credit card companies that they will be in Israel during the certain period of time. Travelers' checks are not always easy to cash. ATM cards and cash are advisable. Banks are closed on Fridays and Saturdays. There are ATM machines and money change places in all cities and at the airport.
20. CELLULAR PHONES
If a volunteer wants to be in contact with people in Israel and back home, the best way is to buy an Israeli SIM card. You must make sure your phone is "unlocked" before you leave home. Cell phones can also be bought in Israel or rented before you come here.
"What's App" is also a good option for staying in touch with people. There is a phone counter at the airport.
There is no wi-fi on army bases.
21. SCHEDULES FOR THE CURRENT YEAR AND THE FOLLOWING YEAR ARE ON THE WEBSITE.
22. ALL VOLUNTEERS ARE SUBJECT TO SECURITY CLEARANCE SO ALL FORMS MUST BE FILLED OUT CORRECTLY AND COMPLETELY AND IN A TIMELY MANNER.
As always, thank you for all of your hard work. Please feel free to contact me if you have any questions.
Johanna, Sar-El Program Coordinator