By Lisa Schreiber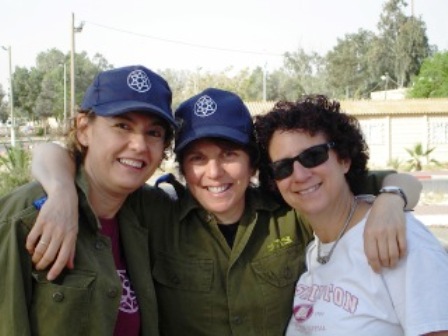 It was probably about twenty years ago when I first heard about Sar El.  My neighbor's parents were visiting from California and they had just returned from a  two week stint of Sar EL.
 "You mean you stayed in a barracks? You mean you were separated for the nights? You mean that you did physical labor? You mean that you chose to spend your vacation time volunteering?" It was a little hard to fathom, but it stayed with me, and every once in a while I thought about volunteering in Israel someday. 
Years passed, my kids grew up and my youngest even made aliyah and I found myself with the time to actually consider volunteering to work with the Israeli army in all seriousness. My friend Ellyn and I had tried volunteering the year before for a different program that was not connected to the military because of our scheduling constraints, and while we did enjoy that experience, we did not feel that we had contributed in any significant way.  Ellyn and I decided that next year we would do something much better.  
We signed up for Sar El not knowing what to expect. We endured all the Private Benjamin jokes and amused chuckles and salutes from our friends and took off for Israel in April. Our friend Julie had decided to join us as she was already planning to be in Israel at that time.  We met up at the airport and our adventure began when we learned that we would be sent to a base south of Beersheva. When the other volunteers got off the bus for their bases that were near Tel Aviv, we stayed on the bus and wondered what had we gotten ourselves into. 
There were seventeen of us in our group, a mixture of Christians and Jews from around the U.S. and Canada. Some were veterans of previous Sar El trips, some newbies like my two friends and me. The veterans came with clotheslines, hooks and instant coffee. The newbies came with a sense of wonder at where we were and that we were actually doing this. Our wonderful madricha, Shani Tzadik, did everything in her power to make us comfortable, literally running across the base to met our needs.
Each day we worked, we ate, we bonded with each other and with soldiers. We had amazing nighttime programs that provided us the opportunity to interact with soldiers. We raised the flag in the morning and sang HaTikva. Some days the work filled us up. Some days it was slower and we had to fill up our own time. But, every minute that we were there we showed the soldiers that we love them, that they are not alone in a world that doesn't care, that we support them and are ready to give of ourselves to prove that. Every time a soldier asked who we were and what we were doing there we did something meaningful. We gave of ourselves, but we received much.
The soldiers let us see the world of a military base. They talked to us about what they do and let us observe them. They gave us a chance to feel that we could do something for them and for the people of Israel. I hope they will remember us. I know that I will never forget them.